Yamaha Blaster 200 A-arms & Shocks ATV Widening Kit +6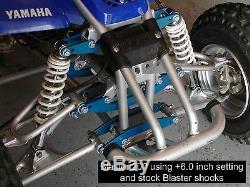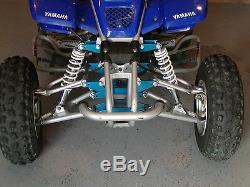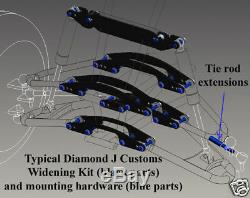 This is a Widening Kit for the FRONT of your ATV. Widen the REAR of your ATV also with our Wheel Spacers.
2" Wheel Spacers (4" total width increase). This kit is for a widening kit for any year model of. We strongly recommend the +6 inch widening kit for the Blaster, because it starts out so narrow from the factory. We sell 95% of our Blaster kits as the +6 kit instead of the +4.5 inch kit.
Instead of replacing the a-arms with custom built, expensive after-market a-arms, this kit simply relocates where the a-arms and shocks mount to the frame. The precision laser-cut brackets supplied in the kit bolt to the stock mounts on the frame, and provide two sets of new mount locations for the a-arms and shocks that are 2 ¼ or 3 inches outward on each side. This provides a 4 ½ or 6 inch total (including both sides) increase in the width of the ATV while making use of all of the stock suspension components. Threaded tie rod extensions that thread onto your stock tie rods and secure in place with jam nuts are also supplied to extend the steering tie rods to match the widening kit.
Some of the widening kits for ATV's 300cc's and smaller have the option to include shock mount kits that are adjustable to allow the customer to vary the ride height of the ATV, utilize longer shocks, or both. Kits come complete with all necessary hardware to make the conversion to a wider stance. Please specify if you want the tie rod extensions for the +4.5" or +6.0" setting by letting us know at the time of ordering. If we don't hear from you within a couple days, we will assume you want the +6 kit. Shocks and a-arms are not included with any of the kits.
The words "shocks" and "a-arms" appear in the title because these are the parts of the ATV that are widened, not because they are included. After-market a-arms and shocks will work with this widening kit, but they are not required.
The kits require no cutting or welding and can be installed easily in an afternoon by a typical home mechanic / do-it-yourselfer. We have installed many kits, and it takes us less than an hour to install a kit.
Brake lines are typically long enough for the conversion if the intermediate brake line support on the a-arm is disconnected to provide more slack in the lines. Rerouting the brake lines around frame members to give a more direct path to the hubs can also help. The following ATV's will most likely need longer brake lines for the +6 setting: YFZ450, 450R, Raptor 250 and Z400. Some of the pictures show the ATV's with the front bumper removed so you can see the kit more easily. The bumper mounts are not affected by the kits.
Stock and aftermarket bumpers should work fine with all kits. Steel brackets are made from 1/4 thick carbon steel and are designed to be used in all types of riding and racing, including motocross and GNCC. Many customers are using these kits to race every weekend. The a-arm mounting brackets are designed to be as strong as the a-arms connecting to them.
The eight separate brackets work together to share the load in all directions (such as rough terrain or hooking an occasional tree on the trails). These kits ARE designed (and used) for the harsh conditions of motocross racing. Maybe 1/4" steel doesn't sound thick to you, but anything thicker would be overkill keep in mind the frame brackets that these mount to, are 1/8" thick steel. We have never had an incident where our kits have caused cracking of the frame mounts or frame joints. Because the widening brackets mount to both sides of the frame, and span both mounting locations, the loads are more easily shared between a larger area, which helps make this a very rigid and robust setup.
All kits come powder coated gloss black. Color choice is not available, but other colors can be painted or powder coated by the customer over the gloss black finish. Kit components go through a seven stage chemical dip cleaning process, are electro-statically dipped in black primer, baked, then powder coated and baked again to a super high-strength gloss-black finish. We are thrilled with the performance of this kit, and excited that so many others have enjoyed it as well. You won't be disappointed!!!
As you can see from our feedback, these kits are for real, and we are very fair & honest people to work with!! Send us pictures of your ATV after you have installed it so we can include it in our website galleries.
FREQUENTLY ASKED QUESTIONS and ANSWERS. Q: What kind of shock and a-arms come with this widening kit? A: Please read the description again. This kit is for widening your existing a-arms and shocks, so that you don't need to invest in new suspension components.
Q: Can I get this kit in a different color? We only sell the kits in black, but you can paint them in your garage if you prefer a different color. Q: How wide will my ATV be after installing the kit. A: If you order the +6.0 inch widening kit, your overall width will be exactly 6 inches wider after installing the kit. If you have the +4.5 kit, you will be exactly 4.5 inches wider after the kit is installed. Q: Isn't 1/4 steel going to bend or break? A: We could make these brackets out of any thickness. We have found that 1/4 thick steel is the perfect thickness for strength, and keeps the weight as low as possible. We have performed computer analysis of our kits, and have subjected them to thousands of hours of testing and have made several improvements over the years where they were needed.
An additional positive, is that even in our most extreme tests and in accident situations, the failure mode of these steel brackets is bending (not breaking). This is preferred, because if you do encounter an unusual situation, bending a bracket versus breaking something, is always preferred.
We don't expect you to have strength issues with our kits, but occassionally an accident will occur. Q: Do I need extended length tie rods for this kit? A: We supply a tie rod extension for each of your two tie rods, so you can thread them on and go. We supply tie rod extensions because they are cost effective, easy to install, and it allows us to stock common parts that are usable on all of the different makes of ATVs.
If we supplied full length extended tie rods, it would add cost to the kit and we would need to make literally 60 or 70 different tie rod lengths and diameters to cover all of the different models. For the vast majority of customers, our tie rod extensions are the perfect solution. For some ATV models, in particular the pre-2006 Yamaha's like the YFZ450's and 660R's, the factory uses 10mm diameter tie rods which are sometimes a little weak. Making them longer with extensions just puts additional stress on what might be the weak link of the system. We recommend if you ride in harsh conditions, you consider a high quality +2 or +3 extended length tie rod made of steel or high quality aluminum.
Q: How much does a widening kit weigh? A: Our widening kits generally weigh between 9 and 12 pounds depending on the model. This includes the mounting hardware, which will replace some of the hardware already on the ATV. We try to keep the weight as low as possible, but adding weight is one compromise to a wider stance. By comparison, a set of +3 extended length aftermarket a-arms can add around 5 to 8 pounds depending on the brand.
Q: Does a widening kit create excessive bump steer? A: Bump steer is when the front tires "toe-out" when landing a big jump, which can cause the ATV to dart left or right unexpectedly. All ATV's have bump steer from the factory, because the pivots of the tie rods aren't exactly lined up with the flex points of the dual a-arm system. This means that as the suspension goes through its range of up and down motion, the tie rods go through a slightly different range of motion which affects the toe-in / toe-out of the tires at each point through the range. Because our widening kits move the a-arms outward without actually moving the tie rod pivot points, they do increase the amount of bump steer in the system.
The real question is how much is significant, and will I notice it? We can count the number of customers that have said they noticed a change in bumpsteer on one hand (less than five). This is even less that we would expect, because if you know what you are looking for, its possible to feel it. We think that the added amount of bump steer is an acceptable compromise compared to spending much more on expensive systems that avoid added bump steer. We recommend that you be the judge, because the chances that someone else's opinion is based on facts or experience, is unlikely..
We also have awesome looking and very strong custom billet aluminum rear wheel spacers that will fit these ATV's and spread the rear 2 inches on each side. We do this by designing kits that will allow use of as many stock components as possible, and allow you to mount higher performing parts from other ATVs on your model. We work hard to design products that maximize the performance of your ATV while keeping prices as low as possible. Safety is not something that will be compromised. We appreciate your interest in our products, and hope to have you as a customer!
Get your own map of past buyers. The item "Yamaha Blaster 200 A-arms & Shocks ATV Widening Kit +6" is in sale since Friday, August 26, 2011. This item is in the category "eBay Motors\Parts & Accessories\ATV, Side-by-Side & UTV Parts & Accessories\Brakes & Suspension\Other". The seller is "diamondjcustoms" and is located in Fargo, North Dakota.
This item can be shipped worldwide.
Part Brand: Diamond J Customs
Manufacturer Part Number: BLST SWID
Placement on Vehicle: Front
Surface Finish: Black Powder Coated
Warranty: No
Part Type: A-arms
Featured Refinements: Yamaha Blaster
Fits: ATV