Ultimate Bright Zinc Electroplating Kit + Power Supply for DIY restoration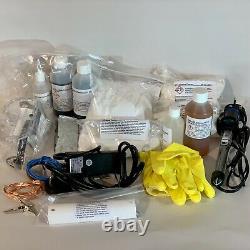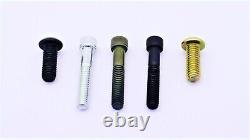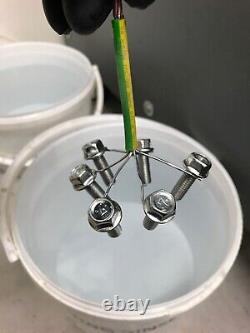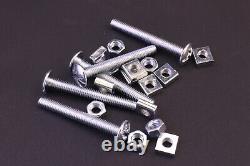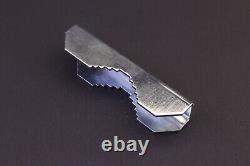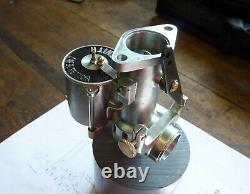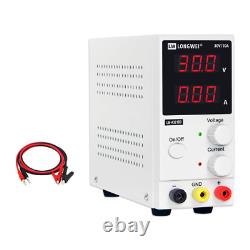 SUPER-BRIGHT ULTIMATE ZINC PLATING KIT. Our Zinc Plating Kits are ideal for DIY enthusiasts, car and motorbike restorers who are looking to finish their items with a zinc coating that has excellent corrosion resistance.
This type of kit is usually used on steel parts, nuts and bolts and can also be used on various other metals including iron, brass and copper. This kit options includes two cleaning chemicals, GP1 Alkaline Cleaner and an Acid Pickle. The GP1 Alkaline Cleaner can be used two ways: as a soak cleaner or an electrolytic cleaner. Using it as a soak cleaner, you would submerse your part in the solution to remove soils such as grease, oils and rust preventatives. If using it as an electro cleaner, it can be used to remove rust.
Guides on how to do both are included in the kit. The acid pickle is an activator and is vital for preparing the metal before plating. Submersing your item in the acid pickle removes any remaining alkaline soaps but more importantly slightly etches the surface, removing any oxides, giving a pristine surface ready for plating.
Within the kit are two important post-plating chemicals known as passivates. The clear/blue passivate can give two different finishes, bright silver and blue. The bright silver finish is done immediately after plating and requires short exposure. The second is the blue sheen finish which is achieved by allowing the plated parts to stay in the passivate a bit longer before rinsing and drying.
The Yellow/Gold passivate will give a gold or yellow iridescent finish when used in a similar way to the Clear/Blue passivate. Both types of passivate give good protection against corrosion. The kit also comes with a 10A precision power supply. We have various variations of our Zinc Plating Kits.
If you are after something different or bespoke, get in touch! Zinc electrolyte chemicals to make 10L, dry acid pickle salts 500g, GP1 alkaline cleaner 500g, 200ml clear/blue passivate, 200ml yellow/gold passivate part a, 100ml part b.
Zinc anodes 400g, copper wire, crocodile clips. Guide, 4x10L tank, gloves, goggles, heater, pump-filter.
Individual knob adjust for current and voltage. High precision dual LED display for current and voltage. Low energy consumption and excellent efficiency (over 85%). Intelligent fan cooling: fan speed adjusts based on power consumption, low noise and long life.
Multiple protection functions: overload protection, overheating protection, overvoltage protection, short circuit protection. Ideal for use with all types of plating, electroforming and anodising. Input voltage: 110/220VAC ±10%, 50Hz-60Hz.
10L Water (distilled or deionised [not tap water]). PPE: Dust Mask (we have no stock left). As the chemicals are hazardous, we use a specialist courier that can carry parcels that are labelled as LQ (limited quantity [hazardous]).