Quadro Pyramid + Upgrade Kit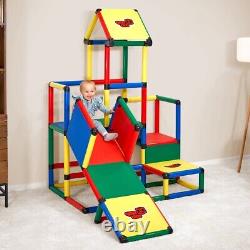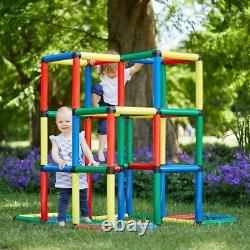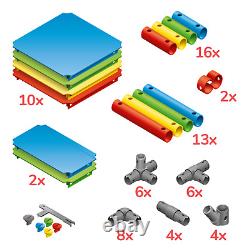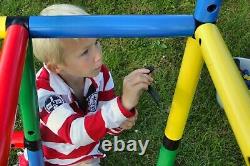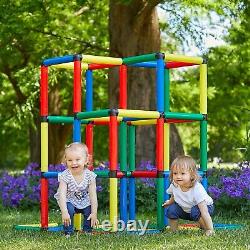 The Upgrade Kit is THE Extension for Your Climbing Pyramid. Make your Climbing Pyramid even better with the Upgrade Kit! It contains ten 40 x 40 cm panels, two 40 x 20 cm panels, sixteen 15 cm tubes, double tube connectors and much more.
The jungle gym is back - right in your backyard! The QUADRO Climbing Pyramid is the most convenient way to keep your child engaged in healthy, active play. Choose from a selection of construction designs, each offering its own unique climbing experience.
Active Play is Healthy Play. There are few other toys that develop your child's gross motor skills while being fun at the same time. Each construction design focuses on improving balance, stamina and strength. No backyard should be without one!
The colorful multi-level designs are made of a durable framework using QUADRO's signature component: the 35 cm (14 in) tube. It's the ideal size for climbing while giving the frame excellent stability. With 236 parts to choose from, older children will love coming up with their own ideas. Creativity, problem solving and logical and critical thinking are just some of the benefits of a construction toy.
The easy to use QUADRO Plug-In System allows you to adapt to your growing child's needs. To keep things interesting, the Climbing Pyramid can be combined with any of our kits and accessories. Some of the popular extension choices include adding a second Climbing Pyramid, the. For more construction ideas, visit the.
When the seasons change, so does QUADRO - to an indoor experience! The high-density plastic parts are easy to clean with a mild soap and water. They don't absorb odors from outside, nor do they absorb water so they won't stain your carpet. Put it in the living room, kid's room, basement or attic!
Quickly adjusted thanks to the easy to use QUADRO Plug-In System. Compatible with all QUADRO products back to 1979. Find more design ideas in our. Starting at 12 months old, children can train their fine motor skills.
No absorption of odours or moisture so it can be brought into your home after outdoor use. Can be used all year round and UV stabilised. 3D QUADRO Design program lets you draft ideas on your computer. Large construction kit with 237 parts.
Up to 100 kg (220 lb) load capacity. By combining kits and extensions, the possibilities with QUADRO become even greater! For example, add a second Climbing Pyramid to build a children's obstacle course. Thinking of adding a slide?
The Upgrade Kit creates the perfect basis for combining a Climbing Pyramid with a Modular, Curved or Integrated Slide. Explore the possibilities in our. Under the blue "Combo" designs and the red "Mega" designs.
Here's a sample of what you will find. If you own two Climbing Pyramids, you can build the Super Climbing Pyramid for even more climbing fun.
You can find assembly instructions in the. Wildly Fun for All Ages!
The Upgrade Kit, with its assortment of smaller tubes and panels, let's you construct 20 cm (8 in) high steps. That reduces the starting age of your Climbing Pyramid to just 6 months! Your baby will have lots of room for exploration and growth with one of these designs. Our most popular designs feature baby slides and baby ramps with one, two or three panels.
And our learning towers, like the one pictured here, will give your baby that extra bit of incentive to climb his first stairs. What a view from up here! The Upgrade Kit can also be combined with other QUADRO construction kits. It provides the components you need for building a play tower that will satisfy different ages at once, from baby to toddler to school child. A good example is design C0076 shown here.