Procharger GM LSX Transplant P-1SC Supercharger Serpentine Tuner Kit EFI Carb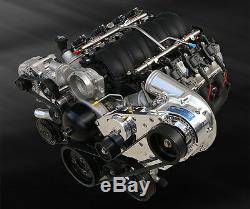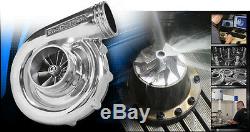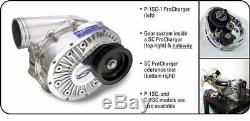 This is the tuner kit which will require a custom tune done locally after you install the kit, and does not include a programmer, fuel injectors, intercooler or high performance fuel pump. There are over a dozen different options for this transplant supercharger kit, please CALL. There are many different options available from ProCharger, please view the details section below for the details on this kit. For the many other ATI ProCharger kits available, and options such as upgrading head units or polished head units. WHAT TO EXPECT FROM THIS PRODUCT.
ATIs self-contained (SC) ProCharger models are the first and only gear-driven centrifugal superchargers to feature self-lubrication, and contain the industrys most advanced technology. In addition to the patented self-contained oiling design, SC ProChargers also feature the highest step-up ratio, exclusive billet impellers, and the industry's only billet gearcases for superior rigidity, sealing and appearance. These proven self-contained ProChargers were designed specifically for internal lubrication and have become the industry standard. The LS Transplant Serpentine Drive Kit can be used in both carbureted and EFI applications and is compatible with accessories such as A/C and P/S, making the kit race-rugged while still maintaining excellent street driveability. The patented and proven lineup of ProCharger superchargers features self-contained oiling, so there is no need for an external oil line and can be matched with a wide range of intercooler options.
The new ProCharger Competition Carb Bonnet is also available for that ultimate finishing touch for The Ultimate Power Adder under the hood of your LS transplant project. By combining advanced supercharger transmission design with the highest quality oil, SC ProChargers produce a larger net power gain because they run cooler and consume less power than comparable oil-fed designs. SC ProChargers also feature an internal step-up ratio of 4.10:1 for improved belt tracking and traction, and maximum low-rpm boost and power. Horsepower gain: Depends on custom tuning P-1SC-1 supercharger head unit, satin finish standard, upgrades available (specify model) Boost pressure up to 32 psi, spec'd out after order is placed Intercooler: NONE Supplied All 3 tubing and ProFlo Bypass Valve Belt Drive System: Additional Dedicated 8 Rib (12 Rib upgrade available) Fuel Pump Supplied: NONE Supplied Fuel Injectors Supplied: NONE Supplied Computer/Ignition Mods. TREperformance is an Authorized Priority Dealer of ATI Prochargers.
Installation Notes: Requires ATI PP balancer part #918853 Specify with or without power steering when using ProCharger Accessory Brackets; GM power steering pump and pulley 21997867 and 12568997 or similar Alternator bracket compatible with GM alternator 19244751 or NAPA RAY 2134812 Compatible with GM air conditioning bracket part 92066950, NAPA air conditioning compressor part 67288 or GM 92175482, and NAPA air conditioning belt part #25-040430 and A/C belt tensioner 38196 or GM 12595289 Auto parts stores can use the above numbers to cross reference other compatible parts Pinning of the crank pulley is recommended Compatible with mechanical or electric water pump Not compatible with Corvette-style water pump Designed to work with Muscle Rods motor mounts or similar (application dependent) Specify iron or aluminum block and standard or tall deck LS7 engine requires modifications (not supplied) Intercooled kits contain universal components, customization required Fitment is confirmed on the following vehicles, though variability of chassis and aftermarket components may require modifications:1966-72 A-Body (Chevelle, GTO, etc), 1968-72 Nova, 1968-81 Camaro/Firebird Note: Factory-style EFI intake shown; Serpentine Drive Supercharger Kits are compatible with aftermarket EFI or carburetor-equipped LSx engines. ATI / ProCharger Dealer information Procharger is very strict about who they allow as dealers. Procharger dealers must have experience with high performance forced induction applications and provide excellent customer service and application advice. Why choose ATI / Procharger Superchargers? ProCharger supercharger systems are absolutely the most powerful and reliable supercharger systems available for your vehicle. Intercooler ProCharger systems are able to reliably increase horsepower and torque by 50-85% while still keeping your vehicle emissions legal and allowing you to run pump gas. For street use or at the track, Intercooled ProCharger supercharger systems will deliver the largest increase in horsepower and torque available from any supercharger system.
And thanks to the extremely low charge air temperatures provided by ProCharger technology, ProCharger systems also provide much better engine longevity by protecting your motor from detonation. ProCharger systems are designed with a fundamental understanding of the physics behind supercharging, and are engineered to the highest quality standards.
Designed, manufactured and serviced in the USA. Superior Supercharger Technology Thanks to relentless innovation, ProCharger technology is generations ahead of the competition. ATIs self-contained (Part numbers ending in SC) ProCharger models are the first and only gear-driven centrifugal superchargers to feature self-lubrication, and contain the industrys most advanced technology. The exclusive, patented, self-contained, gear-driven superchargers eliminate tapping into your oil pan, run cooler and produce more power than any competitors products. The impellers are created with aircraft grade 7075 T-6 aluminum alloy for tremendous strength and performance. The top tier material used in the construction of every ProCharger billet impeller and compressor housing allows the use of higher step up ratios than the competition. This in turn allows increased boost levels and superior overall performance than other offerings on the market. We have ATI / Procharger supercharger systems to fit almost every performance application! We do not lower invoice values since it is a violation of US and International custom laws. Let us work to resolve your problem so everyone is happy. Suite D7 Costa Mesa, CA 92627.
The item "Procharger GM LSX Transplant P-1SC Supercharger Serpentine Tuner Kit EFI Carb" is in sale since Wednesday, March 30, 2016. This item is in the category "eBay Motors\Parts & Accessories\Car & Truck Parts\Turbos, Nitrous, Superchargers\Superchargers & Parts". The seller is "treperformance" and is located in Costa Mesa, California.
This item can be shipped worldwide.
Placement on Vehicle: Front
Interchange Part Number: LS1 LS2 LS3 LS7 EFI Carb Serp System
Manufacturer Part Number: 1LS100-P1SC1
Brand: ATI Procharger
Warranty: Yes
Part Brand: ATI / Procharger