Mercedes Vito (OM646) Service Kit and Oil Combo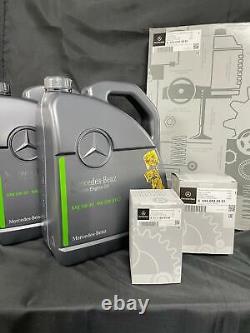 Treat your Mercedes-Benz Vito W639 (OM646) to the service it deserves, with Genuine filters and Oil from Rossetts Commercials. W639 Vito OM646 Service Kit B + 10L MB 228.51 Low Ash (SAPS) 5W30 Diesel Engine. Specially Formulated for Vito W639 OM646.
1x A611 180 00 09 - Oil Filter. 1x A646 092 05 01 - Fuel Filter. 1x A000 090 38 51 - Air Filter. 1x N007603 014106 - Sump Washer. 10L MB 228.51LT Low Ash (SAPS) Engine Oil. MB228.51LT 5W-30 is a high performance synthetic heavy duty engine oil with low Sulphated Ash, Phosphorus and Sulphur content (low SAPS) designed for Euro IV, Euro V and Euro VI diesel engines. MB228.51LT 5W-30 is designed for the lubrication of all Euro IV, Euro V and Euro VI diesel engines equipped with a Diesel Particulate Filter (DPF) or catalytic after treatment systems (such as SCR) operating on low sulphur diesel fuel (50 ppm or below) and under severe heavy duty conditions.
Extended oil drain intervals as indicated by the OEM for high quality diesel engine oils can be applied. MB228.51LT 5W-30 can be used in ACEA E6 and E7 applications and all diesel engines requiring ACEA E4-99. It is also a low SAPS formulation that is suitable for certain gas engine applications and for mobile gas engines. DAF HP-2 ACEA E4 SAE 10W-40 products do not require DAF HP-2 testing for extended drain applications. Specially developed formulation for both ACEA E6 and ACEA E7 applications.
Minimizes diesel particulate filter (DPF/CRT) plugging. Protects catalytic after treatment systems (SCR). Excellent protection against bore polishing and cam wear.
Offers prolonged oil drain intervals and reduces maintenance costs. Provides quick lubrication after cold starting thus limiting engine wear.
Prevents engine fouling due to combustion soot.