Meccano Construction Kit Sets Cars/Helicopters & More -Brand New & Boxed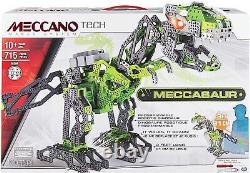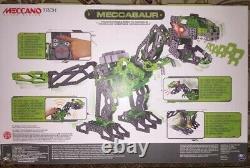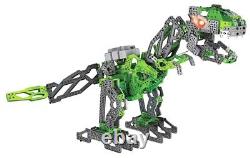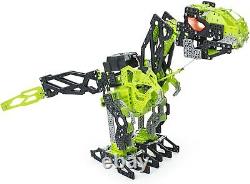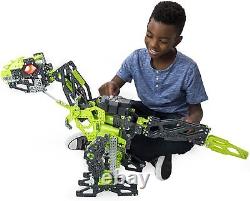 Help little engineers build their very own robotic dinosaur with this Meccasaur construction set. Kids will love creating with this amazing Meccano construction kit. Using the pieces provided, they can make their own robot dinosaur. Once built, the dinosaur can stomp around, respond to commands, talk and roar.
Inside the box, you'll find. Meccano 15104 Junior 150 Piece Bucket.
Helps develop hand motor skills. Allows kids to build 10 different models. Convenient storage case for carrying and storing parts. Contents: 150 pieces, tools and instructions. Let the youngest builders have fun discovering elements of real engineering with the Meccano Junior 150 Pieces Bucket!
They can use the pieces to assemble 10 different models, including a truck, a motorcycle, a speedboat, a robot and a helicopter, and anything else they can imagine. The Meccano 150 Piece Bucket inspires and empowers children to turn their creative visions into their own engineering masterpieces. The future is yours to build with Meccano! Meccano 18214 Space Model Set.
Blast off into space with Meccano! Open up the carrying case and you'll discover all the real metal nuts, bolts and tools needed to start building. Using the real tools, metal nuts and bolts, young inventors can tackle a satisfying and intellectually stimulating challenge.
Once you've constructed the spacecraft, open up the bay doors and use the poseable and retractable landing gear. BUILDING KIT: Challenge the young thinker in your life to tackle this project solo, or team up and build together!
As budding engineers construct this set, they understand how concepts from science, technology, engineering, arts and math are practically applied. The Meccano Space Set is a great gift for kids aged 10 and up.
Build time between 3-5 hours. Includes: 472 parts, 2 real tools, 3 sticker sheets, 1 instruction sheet for 3 models. 16211 Aerial Rescue Helicopter 20 Model set. The 20 Model Aerial Rescue Set comes with 406 durable metal parts, real tools and instructions. Build 1 of 20 models, then take it apart and rebuild a new model. Models include dual geared rotors and a working winch. The Meccano 20 Models Set is for ages 8+. Includes 406 Parts, 2 Real Tools, 1 Instruction Guide. 18203 Rally Racer Car 10 in 1. Construct a working Rally Racer. Builders use real tools (included) to assemble pieces using metal nuts and bolts. Once finished, bring to life with the Meccablock Motor.
With 10 different builds packed into one set, curious young minds in search of a challenge can build again and again! Meccano's 10-in-1 Rally Racer is for amateur builders aged 8+. Construction time of 1-3 hours.
Contents: 159 parts, 2 real tools, a Meccablock motor and an instruction sheet for 3 Models. This licenced race car model features realistic styling from the iconic brand Ferrari.
The Ferrari LaFerrari Set comes with 772 durable metal parts, real tools and instructions. Build an authentic LaFerrari model.
Model includes coil-spring suspension and real working flip-up doors. The Lamborghini Aventador Set comes with 722 durable parts, real tools and instructions. Build an authentic Lamborghini Aventador model.
This Lamborghini Aventador Model features real working scissor doors, coil suspension, and moving V12 pistons. The Meccano Lamborghini Aventador is for ages 10+. 17204 Off Road Racer 25 in 1.
Explore new territory with the 25-in-1 Meccano Off-Road Racer Motorized building set. Build this truck any way your like! The Off-Road Racer is a S. M toy designed to intellectually stimulate kids in a fun way! Use this as a bonding project or challenge kids to build this solo. For an authentic building experience, the Meccano Off-Road Racer features real metal parts and a working motor.
The Meccano Off-Road Racer is recommended for kids aged 9+. Build time of 1-3 hours. 3 x AA batteries required (not included). Contents: 32 parts, 2 real tools and 1 instruction sheet. Meccano Junior - 3 Model Set, Mighty Cycles.
The Meccano Junior Mighty Cycles set builds 3 different mighty cycles: Dirt Cycle, Chopper or Roadster. Once you're done building, play with your Cycle or take it apart and create anything you can imagine!
The fully constructed Dirt Cycle build measures 7.75" long X 4.25" wide X 5.5 tallMeccano Junior Mighty Cycles set is for kids ages 5 and up. It's creepy, it's crawly and it's built by you!
The Meccano Meccaspider is a completely unique hi-tech spider made from space-age materials and is controlled via its buttons or with the free app. Draw on concepts used in the fields of science, technology, engineering and maths to successfully build it. Then, program the Meccaspider to customise its behaviour. Once built and programmed, you can interact with its distinctive personality and discover what Meccaspider can do!
1 x meccabrain with LEDs and dpad programming IR Sensor. 2 x motors for walking. Controlled using built-in buttons, or with the free Meccano app. Built-in games that are a laugh for the whole family including a water spraying function. Interactive robotics toy that comes with a unique personality. Program the MeccaSpider to customise its behaviour. Meccano 27-in-1 Motorised Off Road Racer.
Build 27 different ways with the S. Young minds use real tools to build up two cars at a time!
Kids build using real metal nuts, blots and tools! Once built, kids can engage in imaginative play with their new creation! Size H35.5, W42.5, D10cm. For ages 10 years and over.
Meccano Rescue Force 3 Model Set. Use your imagination to save the day as you explore the world of real engineering with the Meccano Rescue Squad Set. Your first Rescue Squad mission is to construct a model Fire Truck to tackle even the fiercest blaze with its full metal exterior and real working extendable ladder! After a successful rescue, put your Fire Truck on display or take it apart and build one of the other models you can assemble with this set, including the Rescue Airboat or Rescue Heli, complete with spinning rotor! 87 durable metal parts, working wheels, real tools and instructions. Fire truck features a real working extension ladder. Rescue helicopter has a revolving rotor. The fully built fire truck measures 4 long x 1.75 wide x 2 tall. Your own creations are as big as your imagination! Size H14.6, W14.9, D4.76cm.