Mars Hydro TS 600W LED Grow Light+Carbon Filter Combo +Grow Tent Complete Kit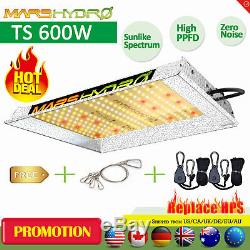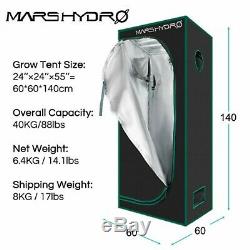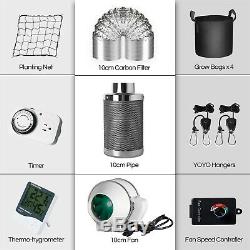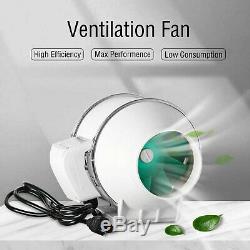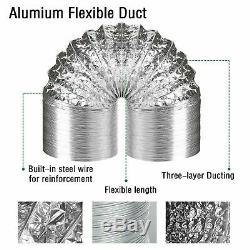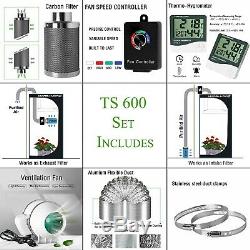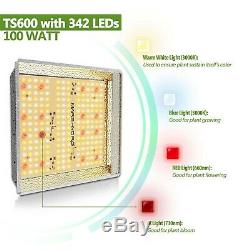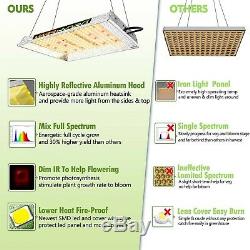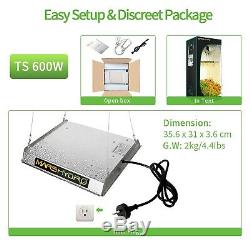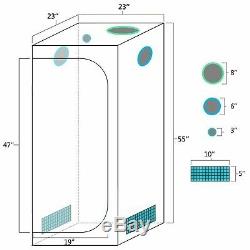 Mars Hydro TS 600W LED Grow Light+24''×24''×55'' Indoor Grow Room for Plant Greenhouse. Wareshouse and repair center are available. Certificate of plug: Safe to use(UL, BS, DVE, SAA, PSE, Approvel). Seeding / Breeding/ Veg/ Flower/For all planting stages / Green Vegs / Flower Plant / Fruit Plant / Herbs / Medical / Meat Plant etc 2. Hydroponics / Horticulture / Indoor plants / Greenhouse Lighting / Pot Culture / Farm / Water Soluble Breeding / Pipeline Cultivation etc 3.
Exhibition / House Garden / Bonsai / Home / Commercial Crops / Project / Personal Growing / Urban and University Research ect. Full Spectrum TS 600W LED Grow Light Panel Lamp Best for Indoor Hydroponic Plants for Indoor Garden Easy Hydro Grow Veg Flower. MarsII 400W LED Grow Light. MarsII 700W LED Grow Light. MarsII 900W LED Grow Light. MarsII 1200W LED Grow Light. MarsII 1600W LED Grow Light. Reflector 240W LED Grow Light. Reflector 480W LED Grow Light. Reflector 720W LED Grow Light. Reflector 960W LED Grow Light.
Classic Mars LED Grow Light. Mars 300W LED Grow Light. Mars 600W LED Grow Light. 27"x27"x63(70x70x160 cm).
39"x39"x70(100x100x180 cm). 48"x48"x78(120x120x200 cm). 57"x57"x78(145x145x200 cm). 48"x24"x60(120x60x150 cm).
9'x5'x7'(284x142x200 cm). 8'x8'x7'(240x240x200 cm). Mars 300 + 27''x27''x63'' Tent. Mars 600 + 39"x39"x70 Tent. Reflector 48 + 27''x27''x63'' Tent.
Reflector 96 + 27''x27''x63'' Tent. Reflector 144 + 48"x24"x60Tent.
Reflector 192 + 27''x27''x63'' Tent. MarsII 400 + 27''x27''x63'' Tent.
MarsII 700 + 39''x39''x70'' Tent. MarsII 900 + 39''x39''x70'' Tent.
MarsII 900 + 48''x48''x78'' Tent. MarsII 1200 + 48''x48''x78'' Tent. MarsII 1600 + 57''x57''x78'' Tent. Full Spectrum: Suitable for using during germination vegetable and bloom. LED Type:Top great A quality EpistarT Robust LEDs, Providing deep penetration.
Coolling System: High-quality Heat Sink & Fan excellent for heat dissipation. Best choice for large grow rooms(commercial/project/greenhouse grow). Mars Hydro Mars TS 600W. LED Type:Newest Epistar SMD Chips. Power Consumption for each Unit: 100W/110v; 99W/220v. Amp: 1.378A/110v; 0.797/220v. Product Dimensions(L/W/H): 36cm x 31cm x 3.6cm. Recommend Core Coverage for Per Unit: 1.5ft × 1.5ft = 45cm × 45cm. Recommend Max Coverage for Per Unit: 2ft × 2ft = 60cm × 60cm. Recommeded Grow Tent Kit: 70x70x160cm or 60x60x140cm. 1 X Mars Hyhydro TS 600W LED Grow Light LED Panel. 1 X Free Power cord with Plug, Plug Type :US, EU, UK, AU, Japan. 1 X Free Steel hanging kits. 24×24''×55'' Indoor Grow Tent Kit Plant Room Reflective Mylar Hydro Hut Home Box. Upgraded Brand new and High quality. 24''×24''×55'' = 2'×2'×4.5' = 60×60×140 cm. Color: Black outside, silver inside. Tent Exterior: Made of Black durable, weather resistant.
Heavy duty 1680D oxford cloth. Completely Light-Tight, Waterproof And Air-Tight Material.
100% Highly reflective water-proof mylar. Made inner lining aims at maximum use of light. Non-Toxic To Environment, No Harm For Plant. Strong Powder white coated steel.
For Robust And Rust Resistant. Door for easy to set up and take down. With adjustable nylon straps for varied sizes of fan, filter, ducting.
1 Removable Velcro Floor Tray To Avoid Spillages. Equipped 3 hangers to help to install plants grow facility. Compatible With Variable Wattages Of Grow Lights Setup. Each inside support bar can carry equipments up to. To keep dust and insects out.
Keep Dust and Insects out. 1 x Reflective Growing Tent Cover. 1 x Removable Water-proof Floor Tray. Hope to get your understanding.
It will encourage us doing better, no matter the quality of the products or after sale service. Don't forget that good communication can solve all problems. Any questions, please feel free to send message to us first.
We are always here to help you. If grow tent is improperly installed and/or maintained, there is potential for damage or possible injury or death. Keep electrical wires safely away from equipment and areas in and or around the tent that may collect water.
Do not hang equipment on or from grow tent that is above the supported weight range. Do not permit children to play on, in, or around grow tent. Do not use your grow tent if any part of your tent material is cracked, ripped, or broken. Do not place grow tent near a deck, stairs, chair, or other unsafe structure.
Assemble correctly to avoid tent tipping over and causing injury. Do not expose grow tent to direct sunlight, near an open flame, or a heat source. Provide proper air circulation in your grow tent to prevent air from going stale. Rich experience on Grow Tent. All product based on high power leds.
We never stop doing improvement on our products and testing the functions. 1 What is the advantage of our grow tent?
The grow tent we offer is a great portable alternative to build a permanent grow room. By using this 100% highly reflective grow tent, you can easily provide the plants with steady supply of light, temperature and water. You can also benefit for better growing of plants.
2 Why choose our Grow tent? Our Grow Tents are the first LED engineered Grow tent specifically for growing with Mars Hydro products. Quality comes first featuring double thick Mylar with a 99% efficient reflective surface.
The tents collect and reflect any light emitted outside of the canopy footprint and delivers it directly back to the plant. Our tents are designed to reflect the spectrum provided by our LED grow lights. This special surface easily outperforms any other grow tents available. These tents area quick, simple and practical solution to creating a controlled horticultural environment.
They are easy to assemble come with all the useful features you would expect. 3 Are these items authentic Mars Hydro? Yes, they are 100% real and authentic of Mars hydro.
We directly get them from factory with excellent quality and competitive price more than 10 Years. The item "Mars Hydro TS 600W LED Grow Light+Carbon Filter Combo +Grow Tent Complete Kit" is in sale since Saturday, June 27, 2015. This item is in the category "Home & Garden\Yard, Garden & Outdoor Living\Hydroponics & Seed Starting\Grow Light Kits".
The seller is "topledfactorystore" and is located in Hollis, New York. This item can be shipped to United States, United Kingdom.
Type: LED (Light Emiting Diode)
Brand: Mars Hydro
MPN: 600W Led Grow Light +60x60x140cm Tent
Actual Power Consumption: 100W/110v; 99W/220v
Features: High efficiency light and highly reflective tent
Application:: Indoor Grow
Model: TS 600W
Wattage: 600W
Compare to HPS/MH/HID: 150W,70% less energy than HPS
Recommended Coverage Area: Core Coverage:1.5*1.5ft Max Coverage: 2x2ft
Feature: Full spectrum for veg flower growth bloom stages
Tent Size: 24''×24''×55'' = 2'×2'×4.5' = 60×60×140 cm
Exterior Material: Heavy Duty 1680D Oxford Cloth
Interior Material: 100% highly reflective waterproof mylar
Frame Material: Powder Coated Steel
Mesh Window: 2*7×12(Quantity* L/W)
Vents Size: 1*3''+2*6''+1*8''(Quantity*Diameter)
Overall Capacity: 40 KG / 88 lbs
Installation Area: Indoor
Country/Region of Manufacture: China