HONDA CIVIC B B16 B18 B20 T3 T4 Turbo Kit Integra 470HP 1996 1997 1998 1999 2000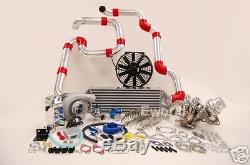 CMI Engineering Honda B-series Street Demon 470HP Package. Packing List of Included Kit Items. Brand new Street Demon Series turbo package for B16/B18/B20 Honda powered vehicles. The most complete turbo package available for B-engine Hondas.
This package has all new quality parts that are capable of producing well beyond 470 horsepower at 25 PSI with supporting modifications and a built motor. This is the most complete package available compared to others at an affordable price.
On a stock motor the kit will create give the motor a 100 horsepower gain on a low boost setting of 8 PSI. Includes a cooling solution for a hot turbocharged engine.
Also, the included electronic turbo timer provides a hassle-free operation of precisely calculating the cool down period to ensure a proper cool down for your turbocharged motor. Works with either automatic or manual gear boxes.
The turbocharger connects the exhaust via down pipe which might be required. Lastly, this kit keeps your air conditioning and power steering for a great street setup. Oil fitting gaskets & mounting studs included. 3" inlet diameter with a 2" outlet. Wet float bearings & properly balanced.
57 compressor wheel trim mapped for low & high boost setups. Capable of producing over 450 horsepower. High quality tubular piping with large primaries. High quality T3 turbocharger flange. Extra thick flange support the turbo well.
Fully ported and polished design. TIG welded 321 Stainless steel material for longevity & strength. Strong design supports the weight of the turbo. Full install kit includes all bolts & hardware. Beautifully polished for a show finish. High quality gaskets included for turbo flange & exhaust manifold flange. Large design cools down the turbocharged air efficiently. Extra thick core provides ample cooling. Strong TIG welds will support high PSI levels. 2.5" cold outlet & 2.5" hot inlet. Less then 2% pressure drop. (1) Universal Intercooler Piping Kit.
Might require modification to fit. (2) straight 2.5 pipes.
(6) 90 degree 2.5 J bends. (4) 90 degree 2.5 tight bends.
(24) stainless steel high strength worm gear clamps. (8) 2.5 straight silicone couplers. (4) 2.5 90 degree silicone couplers.
Can be adjusted for any PSI level desired. Can be setup to adjust boost PSI on the fly.
Quality design will not leak under high boost conditions. Performance design produces a powerful & aggressive sound. Flanges installed at user discretion. Protects turbo by letting pressure surges vent when shifting and/or reducing throttle. Slim design provides excellent engine bay clearance.
Reversible design can either pull or push air. Includes the mounting tabs for a easy zip tie install. Superior flow of a curved-blade design. Versatility of a push/pull reversible fan. 1.25 thick outside perimeter. 2.50 thick inside perimeter. Fan can be used to cool: A/C condenser, oil or transmission cooler, mounting on an intercooler to prevent heat soak, or cooling a a2w radiator. Mounted inside the vehicle for on the fly adjustments. Bright Easy to read LED Digital Display. Auto mode feature creates a hassle-free operation. Includes pigtail wiring and extra wiring for ease of installation. Precisely calculates the cool down period for the motor. Ensures a proper cool down for your turbocharged car every time. Important to preventing premature turbo wear and failure. Increases turbocharger's operating lifespan. Failure to reduce the temperature of the turbo could result in "coking" of oil inside the turbo. Coking is the baking of oil, turning it into a grimy substance. Protect the turbo system from over boosting. Great to setup fuel pressure for boosted engines. Stops excess oil from blowing to the intake manifold. Removes oil vapors from breather line. Ensures better mileage & better performance. Show like high quality polish.
Fits the following vehicles with specified engine. Any vehicle running a B16/B18/B20 swap (Civic, Integra, CRX, Accord, Del Sol etc). 96-03 B15 City VTEC / Non VTEC. 89-92 B16A Civic SiR JDM.
90-93 B16A Integra RSi/XSi JDM. 92-95 B16A Civic SiR II JDM. 89-92 B16A1 Civic VT EDM.
90-91 B16A1 Civic SiR JDM. 91-95 B16A2 Civic Vti EDM.
99-00 B16A2 Civic Si USDM. 94-97 B16A3 Del Sol VTEC USDM. 94-97 B16A3 Del Sol Vti-T EDM.
96-00 B16A4 Civic SiR II JDM. 97-01 B16B Civic Type-R JDM TYPE R. 92-93 B17A1 Integra GS-R USDM. 94-95 B18C Integra Si VTEC JDM.
95-99 B18C Integra SiR-G JDM. 96-00 B18C Integra Type R JDM. 94-01 B18C1 Integra GS-R USDM. 96-97 B18C3 Integra Type R Taiwan/Hong Kong. 96 B18C3 Civic VTi 1.8.
97+ B18C4 Civic 1.8 Vti EDM. 97-98 B18C5 Integra Type R USDM. 00-01 B18C5 Integra Type R USDM.
96+ B18C6 Integra Type R EDM. 96+ B18C7 Integra Type R Australia.
87-89 B20 Accord 2.0i EDM. 85-87 B20A1 Prelude Fi EDM. 86+ B20A1 Prelude 2.0i EDM. 87+ B20A2 Accord 2.0i EX EDM.
90-91 B20A3 Prelude 2.0 S USDM. 88+ B20A4 Prelude 2.0. 90-91 B20A5 Prelude 2.0 Si USDM.
88-89 B20A5 Prelude Si USDM. 87-92 B20A7 Prelude 2.0i EDM. 88+ B20A8 Accord 2.0i EDM. 87-92 B20A9 Prelude 4WS 2.0i EDM. 97+ B20B3 CR-V RD1 EDM.
90-91 B21A1 Prelude Si USDM. After that period, a unpaid item dispute will be filed. Box, FPO, APO, HI, and AK. Eworld is not happy until the customer is 100% satisfied. Please make sure that the part you ordered fits before altering or final installation.
Altered items and custom orders are not refundable or returnable. The item "HONDA CIVIC B B16 B18 B20 T3 T4 Turbo Kit Integra 470HP 1996 1997 1998 1999 2000" is in sale since Friday, December 14, 2012. This item is in the category "eBay Motors\Parts & Accessories\Car & Truck Parts\Turbos, Nitrous, Superchargers\Turbo Chargers & Parts". The seller is "eworldsales1" and is located in Troy, Michigan. This item can be shipped to North, South, or Latin America, all countries in Europe, all countries in continental Asia, Australia, South africa, New Zealand, Egypt, Reunion.
Brand: RX
Manufacturer Part Number: 000003244353
Warranty: 1 Year