GlassCast 50 River Table Resin, Furniture Infills, Clear Casting, Glass Cast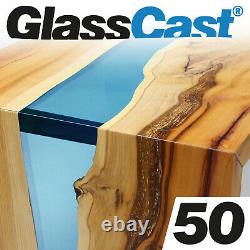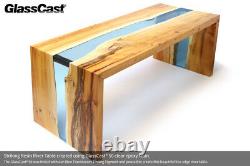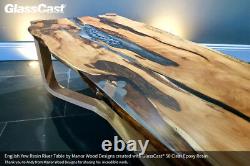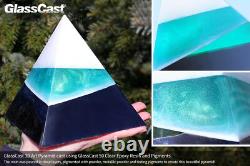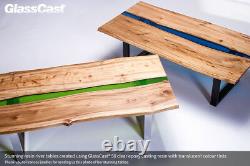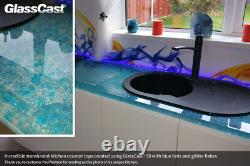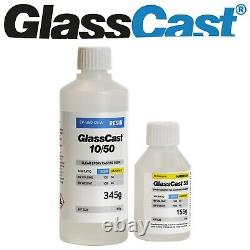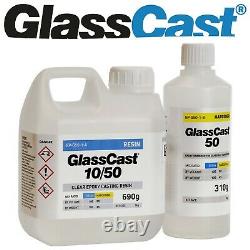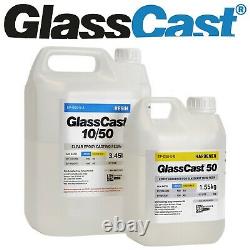 At the moment GlassCast Resin is open and operating almost as normal! We have however been made aware of potential delays with all of our courier services due to driver/operations shortages and closed premises and so we advise customers that, under these unprecedented circumstances,'next working-day' deliveries cannot be guaranteed until further notice.
For creating thick, water clear, bubble free castings - our GlassCast 50 is the perfect epoxy resin for river tables, knot filling, furniture infills and amazing 3D artwork, sculpture and more! GlassCast 50 is the new clear epoxy resin developed by the team that brought you the original GlassCast clear epoxy coating resin for penny floors and more! The new GlassCast 50 is a clear epoxy resin developed specifically for casting stunning creative projects and can be poured up to a thickness of 50mm in a single pour (25mm pour depth into wood) or layered to create castings of unlimited depth - opening up a world of possibilities for embedding materials, filling knot holes, casting river tables, sculpture, 3D artwork and more! In 2017, GlassCast became world-famous when a customer's video of their GlassCast penny floor project went viral.
This project inspired makers and creators all over to try new projects using resin, in particular the amazing resin river tables. So the new GlassCast 50 was developed specially to be the perfect resin for applications such as this.
The adjacent image of the river table was created by a GlassCast customer - Manor Wood Designs - It really is stunning! GlassCast was developed to be hard-wearing, polishable, UV resistant and easy to use.
It offers unsurpassed performance for applications like this. So if you're looking for the ultimate clear resin for deep casting projects then you're looking for GlassCast 50! This listing is for GlassCast 50, each kit includes resin and hardener. The pack sizes available are 500g, 1kg and 5kg. Larger trade packs are also available, please discuss your requirements.
GlassCast 50 has an easy to use 2:1 mix ratio by volume and will self degas during the curing process to produce a perfectly clear, bubble free casting. To create stunning effects GlassCast 50 can be pigmented or tinted to create solid colours or tints like stained glass, decorative effects such as metal powders, glitters and glow powders can also be added.
When casting into wood the insulating effect of the wood (particularly if you also have a wooden base/board) can make it very difficult for the resin to lose heat as it cures. This limits the maximum recommended castable thickness when casting into wood at 25mm. This is particularly important when working in higher ambient temperatures (anything above 20°C). For a typical'river table' fill (example 40mm) we would suggest splitting the main pour into 2 layers of 20mm each, this will avoid the possible risk of exotherm during cure and achieve the best possible results.
When casting GlassCast 50 into other materials such as plastic or silicone moulds, it it usually possible to cast up to 50mm in thickness in a single pour. How to use GlassCast 50 for a Resin River Table. Make sure you fully read our Technical and Safety Datasheets before starting your project.
There are so many project possibilities when using GlassCast 50 but the project catching everyone's imagination at the moment is the Resin River Tables and GlassCast 50 is the perfect product to achieve a stunning resin river table. Despite the very good advanced'UV' resistant formulation of our Glass Cast resins, we don't suggest using the GlassCast range of resins for permanent, outdoor applications. This is down to epoxy chemistry meaning that eventually, over time, depending on UV exposure, environmental conditions etc, the resins will always eventually yellow in outdoor conditions. How visible this is depends on factors such as the underlying colour and conditions experienced.
We simply don't have the longevity of testing to be able to guarantee how long it will be before the resin may start to deteriorate in direct sunlight, adverse weather conditions (freezing in winter, high temps in summer), water pooling or sitting on top, etc. We have got customers who have used it for such applications but the advice would be to either put the outdoor prjects away between uses or to have a cover to protect it if no other product yacht varnish, etc. The team behind Glass Cast are on hand to help with any questions you may have, whether you want help with calculating the right quantity or need advice or mixing, pouring or troubleshooting. GlassCast is held in stock in the GlassCast Resin warehouse in Stoke on Trent. Because GlassCast is classified as'dangerous goods' it can only be sent by specialist carrier; we use TNT for most pack-sizes.
GlassCast Resin is part of the Easy Composites Ltd Family. This item is in the category "Home, Furniture & DIY\DIY Materials\Other DIY Materials". The seller is "glasscastresin" and is located in this country: GB. This item can be shipped to United Kingdom.
Kit Size: 5kg GlassCast 50 Kit
Colour: Clear
Material: Epoxy Resin
Bundle Listing: No
Type: Clear Epoxy Resin
Features: Casting Resin
MPN: EP-G50
Brand: GlassCast