GlassCast 3 Clear Epoxy Penny Floor Resin, Tabletop, Bar-Top Coating Resin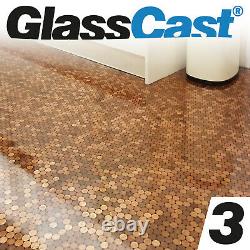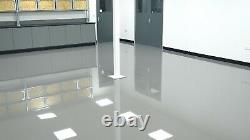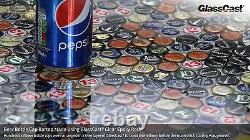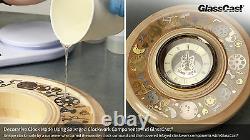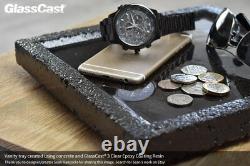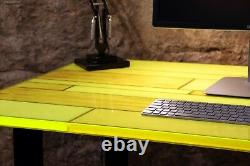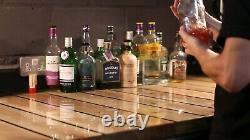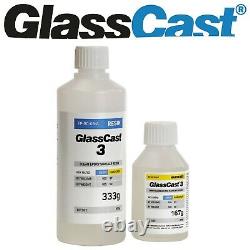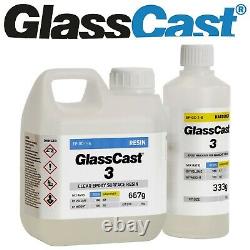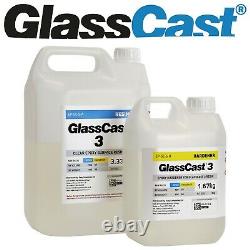 At the moment GlassCast Resin is open and operating almost as normal! We have however been made aware of potential delays with all of our courier services due to driver/operations shortages and closed premises and so we advise customers that, under these unprecedented circumstances,'next working-day' deliveries cannot be guaranteed until further notice. For a hard-wearing, UV resistant, glossy coating on penny floors, counters, worktops and more! GlassCast 3 is a remarkable clear epoxy resin developed specifically to provide a beautiful, hard wearing, clear gloss surface for tabletops, bartops, decorative floor effects, furniture and coatings for creative projects. GlassCast 3 can be poured at thicknesses from just 1mm to 5mm sections opening up a world of possibilities for embedding materials within the resin such as bottle tops, crushed glass, pebbles, pennies and art coatings.
In 2017, GlassCast became world-famous when hundreds of millions of people shared a customer's video of their GlassCast penny floor project. GlassCast 3 was developed to be hard-wearing, polishable and UV resistant and easy to use.
We believe it offers unsurpassed performance for applications like this. If you're looking for the ultimate resin for your penny floor project then you're looking for GlassCast 3! This listing is for GlassCast 3 kits which includes resin and hardener and are available in kit sizes as follows: 500g, 1kg, 5kg and 37.5kg trade kits.
How to Use GlassCast® 3 for a Penny Floor. Before use, you must also read and follow the information on the Safety Datasheet. Although GlassCast 3 can be used for a wide range of projects, a large number of customers are using this unique resin to create a stunning glossy penny floor, here's the basics. How Much Resin Do You Need?
For a penny floor, you'll want a resin coating of about 2mm. If you're not grouting between the pennies then you'll need to allow for a little extra resin for between the gaps to. For a 2mm coating over grouted pennies you'll need 2kg of resin per square metre of floor. For ungrouted pennies you should allow for 3kg of epoxy per square metre.
Example #1: Grouted pennies, 2m x 1.5m room. 2 x 1.5 = 3sqm. 3 x 2 = 6kg of GlassCast Example #2: Grouted pennies, 3m x 2m room.
3 x 2 = 6sqm. 6 x 2 = 12kg of GlassCast Example #3: Ungrouted pennies, 4m x 3m room.
4 x 3 = 12sqm. 12 x 3 = 36kg of GlassCast. Lay down your penny floor using the materials of your choice. The most important thing is to ensure that the floor is.
Level - because the resin self levels and may pool at one end otherwise. Waterproof - if the floor is porous the resin could run down through it. Dry - if you've grouted between your pennies or have moisture in the substrate then the resin could react with it.
Mixing and Pouring the Resin. Once you're 100% sure that your penny floor is level, sealed and fully dried (see above) you're ready to pour your GlassCast 3 glossy resin surface. For a basic outline of the process, see below but if you're about to do this in real life then make sure you read the full instructions which can be downloaded here. You'll need two clean buckets, one big enough to hold ALL your resin, and a smaller one to mix batches of resin in. Using the smaller bucket, mix batches no larger than 3kg at a time (2kg of resin, 1kg of hardener).
Mix thoroughly for 3 mins then transfer the mixed resin into the larger bucket. Repeat this process to mix all your resin. Once all your resin mixes are in the larger bucket, mix the resin in the large bucket again to ensure your resin and hardener are 100% combined with NO unmixed resin stuck on the sides or corners of the bucket. Pour the GlassCast 3 over your floor and watch the resin self-level. Wait a minimum of 24hrs for the resin to reach initial cure.
Keep traffic to a bare minimum whilst the resin continues to harden over the next several days (depending on temperature). Ambient Temperature, Pot-Life and Pour Depth. The GlassCast range of resins, in common with all epoxies, generate heat as part of the curing process.
The amount of time the mixed resin can spend in the pot, as well as the maximum depth it can be poured at, will vary depending on the ambient temperature. For best results, we recommend working in a consistent room temperature of 18-20°C. GlassCast can be used in temperatures from 15 to 25°C but higher temperatures will reduce the pot-life and the maximum pour-depth of the resin significantly, as shown in the table below. Maximum Time in Pot (Pot Life). Despite the very good advanced'UV' resistant formulation of our Glass Cast resins, we don't suggest using the GlassCast range of resins for permanent, outdoor applications. This is down to epoxy chemistry meaning that eventually, over time, depending on UV exposure, environmental conditions etc, the resins will always eventually yellow in outdoor conditions. How visible this is depends on factors such as the underlying colour and conditions experienced. We simply don't have the longevity of testing to be able to guarantee how long it will be before the resin may start to deteriorate in direct sunlight, adverse weather conditions (freezing in winter, high temps in summer), water pooling or sitting on top, etc. We have got customers who have used it for such applications but the advice would be to either put the outdoor prjects away between uses or to have a cover to protect it if no other product yacht varnish, etc.
The team behind GlassCast are on hand to help with any questions you may have, whether you want help with calculating the right quantity or need advice or mixing, pouring or troubleshooting. GlassCast is held in stock in the GlassCast Resin Warehouse in Stoke on Trent. Because GlassCast is classified as'dangerous goods' it can only be sent by specialist carrier; we use TNT for most pack-sizes.
GlassCast Resin is part of the Easy Composites Ltd Family. This item is in the category "Home, Furniture & DIY\DIY Materials\Other DIY Materials". The seller is "glasscastresin" and is located in this country: GB. This item can be shipped to United Kingdom.
Material: 5kg GlassCast 3 Kit
Colour: Clear
Unit Quantity: 1
Type: Epoxy Resin
Features: floor resin, coating resin
MPN: EP-GC
Unit Type: kg
Brand: GlassCast