E-BIKE EMTB TUNING KIT SpeedBox 3 FOR ALL 2014-2020 BOSCH MOTORS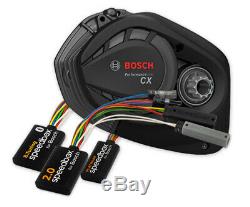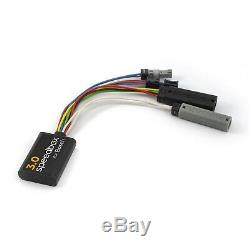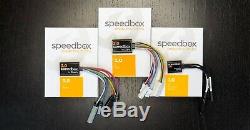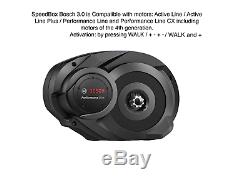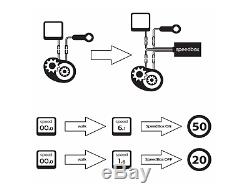 SpeedBox 3.0 Tuning Kit. Due to the Virus situation, we would like to inform you that we are still working and can dispatched your orders as usually, just please do be aware that some of them can be a bit late (not necessary). Thank you for understanding and if you have any questions, please let me know! Took the bike out today and its like a motocross bike. SpeedBox 3.0 tuning chip enables to select speed limit of your own choice.
After the chip is installed, your e-bikes display will show real data , such as maximum and average speeds, daily mileage and cruising range. The tuning kit can be activated directly on your e-bikes display. After pressing the WALK / + - + - / WALK and + button, a value of 6.2 mph or. 9.9 km/h is displayed and from now on you will be able to ride at a speed of 25mph (40 km/h), 31mph (50 km/h) and even more than 37mph (60 km/h). S much as you can pedal!
To deactivate the tuning kit, press the WALK button again. The value of 1.6 mph. 2.5 km/h will appear on your display and the speed limit will reset to 15mph (25 km/h).
Your e-bike will then work the same as before installation of the Tuning kit. You can set the maximum speed of an electric assistance by changing modes: Turbo - Sport - Tour - Eco - Tour - Sport - Turbo. An actual speed limit will be displayed after that.
The maximum speed of an electric assistance can be switched by pressing WALK button shortly or by turning the rear wheel 360°. The value of 0.9mph (1.5 km/h) on the display corresponds with the limit of 9.3mph (15 km/h) ; 1.2mph (2 km/h) corresponds with the limit of 12.4mph (20 km/h) ; 1.5mph (2.5km/h) corresponds with 15mph (25 km/h) ; 1.8mph (3.0 km/h) corresponds with 18.6mph (30 km/h) ; 6.2mph (9.9 km/h) corresponds with 61.5mph (99 km/h) etc. The last displayed limit will be saved after 5 seconds of inactivity. When using SpeedBox 3.0 with Bosch motors of the 4. Generation (produced in 2020 or later) it is necessary to leave the bike on after finishing the ride until a value of 0.0 km/h is displayed.
During this process the remaining time will be displayed in minutes. Then it is safe to turn off your bike and you can start looking forward to your next trip.
What happened if you don't? Nothing, just before starting next trip you will have to wait for the count down. All SpeedBoxes come complete with an instruction manual, you can also find a video tutorial on youtube (and below).
If you have any questions regarding the setup please do not hesitate in contacting us, we are happy to help. Which Speedbox Tuning Kit do I need? Including all Active Line, Active Line Plus. And Performance Line CX models including motors of the 4th generation. Please be aware about Bosch new update for 2020 4Gen Models, released on 24th of March 2020 (Version 1.0.3.0), we do not know how it will effect tuning kit and your ebike. Please do not update Bosch 2020 4Gen motor software if you have bought it prior March 24th 2020! When connecting the SpeedBox chip to an e-bike you will find connectors colored to make installation very simple. We have prepared detailed instructions and videos to make installation easy for you.
Disassembly of our tuning chip is just as easy. SpeedBox 3.0 for BOSCH assembly video.
If You are planning to install SpeedBox on brand-new eBike , make sure you ride it for at least 0.6miles (1km) before the Tuning Kit is activated. Please note that the operation of this type of modified electric bikes on public roads may be against the law in some countries. Electric bikes equipped with SpeedBox products are not allowed to be used on public roads, cycling paths and public places. Electric bikes equipped with SpeedBox products can be used exclusively on private property and entirely at ones own risk.
We strongly recommend using other safety features and protective gear to prevent injuries in higher speeds. SpeedBox Products are thoroughly tested and we stand by their quality.
The item "E-BIKE EMTB TUNING KIT SpeedBox 3 FOR ALL 2014-2020 BOSCH MOTORS" is in sale since Monday, December 30, 2019. This item is in the category "Sporting Goods\Cycling\Electric Bikes". The seller is "twowheelsempire" and is located in East Sussex. This item can be shipped worldwide.
Compatible with Bosch Performance CX: 2014, 2015, 2016, 2017, 2018, 2019, 2020 year
Maximum Speed: Motor Support up to 61mph (99km/h)
Product Type: E-Bike Tuning Kit; Chip; Dongle
Compatible with Bosch Active Line Motor: 2014, 2015, 2016, 2017, 2018, 2019, 2020 year
Country/Region of Manufacture: Czech Republic
Model Year: 2020
Compatible with Bosch Active Line Plus: 2014; 2015; 2016; 2017; 2018; 2019; 2020
Compatible with all: 4 gen and 2020 motors
Compatible with Bosch Performance* Motor: 2014, 2015, 2016, 2017, 2018, 2019, 2020 year
Weight: 99 g
Type: E-bike; E-MTB; E-Mountain Bike;
MPN: Does Not Apply
Brand: SpeedBox