Canon PowerShot PX Camera Essential Kit Black? BRAND NEW&SEALED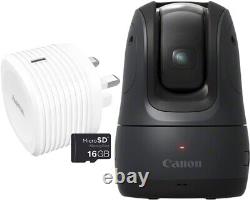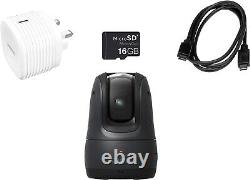 SAME DAY DISPATCH FAST & FREE?? CAPTURE THE MOMENT, ENJOY THE MOMENT - Trust the PowerShot PX to capture the people and moments in your life, automatically composing photos and video with its pan-tilt lens, while you carry on being in the moment. SHARP AND STABLE - A pan-and-tilt zoom lens covers the whole scene, rotating through 340° and moving up and down by 110°. A 19-57mm (equivalent) zoom range is great for wide shots and close-ups.
With built in Image Stabilisation, it Keeps things looking smooth. HANDS-FREE - With its face recognition, this hands-free camera composes pictures for you, while you enjoy what's going on around you. It's like having your own personal photographer. ON DEMAND - Want more control? The PowerShot PX is voice activated - great for drawing attention to a special moment, as well as timing the perfect group shot. PORTABLE - A portable design and built-in rechargeable battery lets the PowerShot PX go anywhere with you, making it great for party photography. No hassle USB-C charging is convenient wherever you are.
The Minimum charging requirement is a USB PD compliant power source providing a minimum of 5V, 1.5A with a USB Type-C output and using the provided USB Type-C to Type-C cable, for a direct connection between the charger and the camera. Optical zoom: 3.0 multiplier_x.