Best Complete Hydroponic Grow Room Tent Fan Filter CFL Light Kit 120x120x200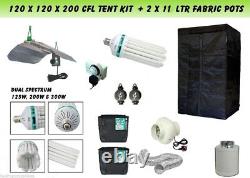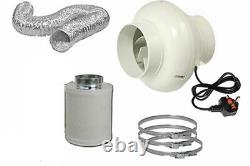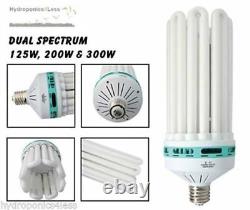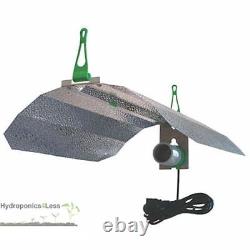 Best Complete Hydroponic Grow Room Tent Fan Filter CFL Light Kit 120x120x200. In this kit you will get the following item. CFL Dual Spectrum (select size above) ---- LUMii MAXii Reflector ---- Timer. Swiftair Tent - 1.2m2.
Swiftair Inline fan kit - Centrifugal fan, Carbon Filter, Alu Ducting, Clamps. 2 x Fabric 11 Litre Pots included!!
It is an open ended highly polished and dimpled lightweight reflector which gives an efficient and even distribution of light. Unlike others on the market, the LUMii MAXii includes a unique lamp holder that is adjustable and designed to fit all E40 lamp types. All earth requirements are incorporated into the lamp holder itself. This safety feature means that there is no need for additional components. With the LUMii MAXii system and the CFL Converter Ki, t you can use a cool CFL lamp for vegetative growth.
Then if you are flowering switch to an HPS lamp by simply unplugging the converter plug and plugging into a LUMii ballast; all without taking your reflector down or changing it. No other reflector does this - it is easy! L: 470mm x W: 430mm x H: 190mm. The LUMii MAXii comes as a complete HID reflector set and is supplied with hanging hooks as per picture. SUPERB VALUE HYDROPONIC TENT 120 x 120 x 200.
Quality Hydroponic Grow Room Tents. 95 % reflective hammered silver lining. Metal poles (please make sure these a pushed all the way in on the side clip provided). 4 x holes (1 Left, 1 Right, 1 on Top & 1 Bottom).
(we found the easiest way to put up is fix bottom half first then top part and start from the back). FAN, ALUMINIUM DUCTING, CARBON FILTER, CLAMPS X 3. Centrifugal fan - 110 m3/h - comes with stand attached to screw to floor (can not see in picture). To get the most out of your kit, please follow these few tips.
Remember, if you reverse-mount your Filter you will lose the benefit of your pre-filter and reduce the life of the carbon.