Battery Kit Complete With Battery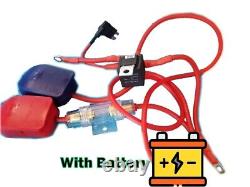 Battery Kit Complete With Battery. This pre-wired kit provides all you need to seamlessly install a secondary battery in your Range Rover. This Secondary battery solves a long list of problems with the Range Rover's Electrical System and will fix the common error codes such as. These are typically due to low battery voltage which is in turn because of the very demanding electrical system the Range Rover has when "off" and locked. During this period when you believe your Range Rover is dormant, it is actually using quite alot of power and this is what causes your car not to start in the morning and the errors above.
This kit will allow automatic charging of the secondary battery and the main original battery while the car is running. When the ignition is off the batteries will disconnect after a delayed time and the state of charge of the second battery is kept for weeks at a time meaning you will not come back to a Range Rover which wont start because it has a weak battery. It is recommended that you remove your battery while you install this kit although if you are careful not to short the terminals, you can install it while the car has the battery connected.