Atari Lynx II 2 Screen Kit Replacement Brand New CleanScreen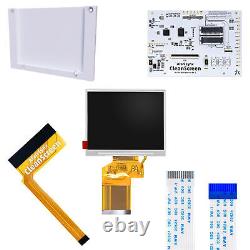 The Atari Lynx is a hybrid 8/16-bit fourth generation handheld game console released by Atari Corporation in September 1989 in North America and 1990 in Europe and Japan. It was the first handheld game console with a color liquid-crystal display.
Powered by a 16 MHz 65C02 8-bit CPU and a custom 16-bit blitter, the Lynx was more advanced than Nintendo's monochrome Game Boy, released two months earlier. It also competed with Sega's Game Gear and NEC's TurboExpress, released the following year. The system was developed at Epyx by two former designers of the Amiga personal computers. The project was called the Handy Game or simply Handy. In 1991, Atari replaced the Lynx with a smaller model internally referred to as the Lynx II.
Atari published a total of 73 games before the Lynx was discontinued in 1995 in preparation for the launch of the Jaguar. One of the downsides of the Lynx is the screen. The original often fails, and even when it works is very outdated, dim and low contrast, not to mention power hungry.
Holding Left, A and B brings up the On Screen Menu, then pressing B enters the menu while Left and A (right) go left and right in the menu. Options in the menu include pixel grids, color modes and VGA output.
Easy to install (solder free in Lynx II, or soldered wires for Lynx). Install can be done in a matter of minutes.
1x Atari Lynx CleanScreen Board. 1x Atari Lynx CleanScreen LCD Ribbon.
1x Atari Lynx CleanScreen Button Ribbon. 1x Atari Lynx IPS Screen. 1x Atari Lynx II CleanScreen LCD Bracket.