3 Day Emergency Survival Kit Bug Out Bag Disaster Earthquake Zombie 72 Hour SHTF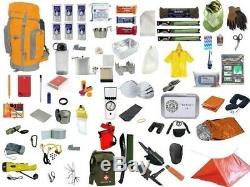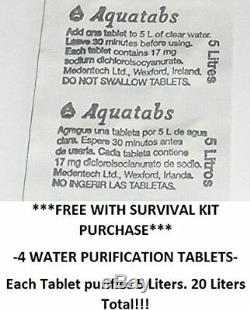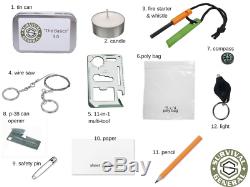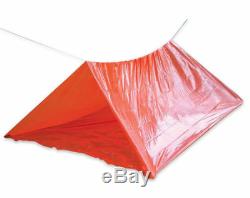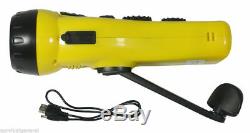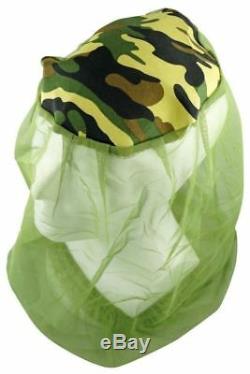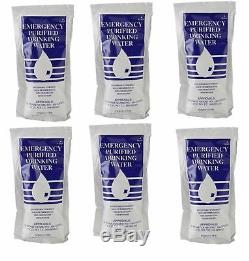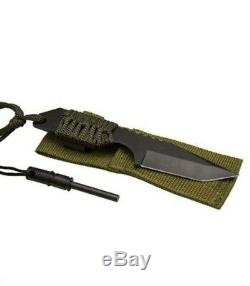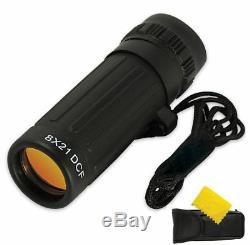 3 Day DELUXE Survival Bug Out Bag (BOB) ORANGE. This is a 72 hour/ 3 day pack with all the items needed to survive. Food, Water, Shelter, Fire, Warmth, Hunting, Tools, 1st Aid, and much more! Includes a FREE Survival Tin Kit! Check out the description for more details. 1-Orange 45 Liter Back Pack (26" x 17"x 9") has one top compartment (2.5"x 10.5" x 7.5") and two side compartments (12"x 6"x 2.5). This pack is VERY HIGH quality! 1- 3600 Survival Food- Includes 9 bars for 3 days. 6- Emergency Water (each packet is 4.227 mil). 3- 400 Millennium Energy Bars (Flavor Chosen at Random). Dynamo Light & Emergency Radio 7-1/2 Length, 3 LED. 1- 3 LED Dynamo Flashlight (No batteries needed) - 2" x 4".
100'- 550 7 Strand Para Cord (color Varies). 3- 12 hr Light Sticks.
1- Tweezers with Magnifier (varies from plastic to metal). 1- First Aid Kit w /Platoon Style 1st Aid Pouch. 1- Heavy Duty Aluminzed PE Emergency Sleeping Bag 84"x 36". 1- Heavy Duty Aluminzed Emergency Blanket 83" x 51". 1- Emergency Poncho w/ hood 61" x 65".
1- Emergency Camping Tube Tent 8 1/4' x 6. 1- 3pc Travel Set: Inflatable Neck Pillow, Eye Mask and Ear Plugs. 1- Small Emergency Water Bag (5" x 8.5" x 3) 1/2 Liter Capacity. 1- Large Emergency Water Bag (12.5" x 12.5" x 4 1/3) 5 Liter Capacity. 1- 34 oz BPA Free Wide Mouth Water Bottle: Heat/Stain/Odor Resistant.
1- Aluminum Locking Carabiner- 3" x 1.75". 1- Light Duty Tarp 4' x 6'- Use to make an emergency shelter, ground cover, and waterproof blanket. 1- Toothbrush Kit- Toothbrush, Toothbrush cover, plastic pouch and toothpaste.
1- 7-IN-1 Orange Survival Whistle with Lanyard, Waterproof Storage Container, Thermometer, 5x Magnifier, Signal Mirror, White LED Light, and Compass. 1- Large black plastic trash bag w/ Rubber Band. 1- Note pad, pen and pencil. 1- P-38 Can Opener-Can also be used as a flat head, Phillips, and knife.
1- 14-in-1 Multi-Functional Knife- Knife Blade, Wood/Rope Saw, Hook Disgorge, Fish Scaler, Can Opener, Scissors, Bottle Opener, Slotted Screwdriver, Tent Reamer, Nail File , Nail Cleaner, Cork Screw, Sturdy Reamer, Phillips Screwdriver, and more. 1- 7-in-1 Multi Function Camping Tool, Utensils and Opener- Spoon, Can Opener, Bottle Opener, Cork Screw, Fork, Knife, and Tent Reamer. 1- Candle 3 Wick 36 Hour. 1- 20 Piece Waterproof Matches.
Includes Waterproof Container w/ Striker. 1- 7 Strands Paracord Bracelet- Provides Over 8' of Usable Rope! Color Black, OD and Tan- Color chosen at random. 1- Pack of Wet Wipes (count varies). 1- Heavy Duty Portable Hand Chain Saw.
1- Roll of Duct Tape. 1- Metal Mess Kit - to cook your food (size may be larger). 1- Sewing Kit with Case.
1- Folding Fuel Stove with Matches and Fuel Tablets. 1 Stainless Cup- Holds 16 Oz. 1- Sling Shot with w/ Sturdy Frame. 4- Purification Tablets One tablet purifies about 5 liters. 1- Binocular 8 x 21 with Case and Lanyard. 1- Professional Map Compass with Mirror, Ruler and Lanyard.
1- Signal Mirror 3"x 4". 1- One Size Fits Most Mosquito Head Net.
1-Large Hard Plastic Case (5.5" x 4" x 1.5). 1- Waterproof Pouch (5" x 7.25"). 1- Flask and Funnel - 8 oz Capacity. 1- Deck of Playing Cards. 12-Compressed Towels- Expands to 9.5" x 10".
1-Tin Can 3.9" by 2.5"- use as a reflective mirror to signal for help and to cook your food. 2-Candle- for light and fire. 3-Magnesium and Starter/Striker w/ WHISTLE and cord- Magnesium to help start a fire, Striker to start a spark and can be used to cut things.
Striker has a black coat to help prevent corrosion. Once black coat is removed you will have plenty of sparks! For first-time use, stripping the protective layer of paint from the striker before starting your fire will help produce the best results. 4-Wire Saw- used to cut wood for a fire or a make shift snare. 5- 11-in-1 Multi Tool w/ Sheath-(1) Saw Blade, (2) Butterfly Screw Wrench, (3) Can Opener, (4) Knife Edge, (5) Bottle Cap Opener, (6) Slotted Screwdriver, (7) Ruler, (8) 4 Position Wrench, (9) Direction Ancillary Wrench, (10) 2 Position Wrench, (11) Key-chain Hole. 6- Reclosable 5"x 4" Bag- Waterproofs whatever you put in the bag and can also be used to transport fresh water. 8-P38 Shelby Can Opener- open cans, use as a knife, Phillips and Flathead screw driver. 9-Safety Pin- Use as hooks, traps, 1st aid, and sewing.
10-Blank Paper-Use for writing a note, or to help start fires. 11-Wood Lead Pencil (color may vary)- For writing and wood can be used to help start fires. 12-Flashlight with Key Ring-See in the dark and signaling.
13-Thick Rubber Band- This tin kit is loaded with tons of stuff. The Rubber Thick band helps to secure the tin kit. Also, used as fire fuel. 14-12 of wrapped Electrical Tape to Waterproof Tin- Waterproof your tin kin by wrapping around the tin. Can also be used as bandage and to start fires.
Using this tin kit provides you with the tools to start a fire to stay warm, cook your food, build a shelter, hold water, catch small game (provide food), go fishing, navigate, light for the dark, open a can, write a note, protect yourself and signal for help. You are responsible for yourself. As with most things, proper. Is essential to enhance your chance of survival. We'd love to hear your thoughts! Pack does not come assembled. All you have to do is assemble the pack. Be sure to check out out other auctions for more great SURVIVAL items! The item "3 Day Emergency Survival Kit Bug Out Bag Disaster Earthquake Zombie 72 Hour SHTF" is in sale since Thursday, November 19, 2015. This item is in the category "Sporting Goods\Outdoor Sports\Camping & Hiking\Emergency Gear\Other Emergency Gear". The seller is "sgsdepot" and is located in United States. This item can be shipped worldwide.
MPN: Does Not Apply
Brand: N/A